For a truly authentic experience, there is no better way to arm yourself than to carry along a wooden shield, delivered to you by Dark Knight Armoury. These shields have advantages that steel shields do not offer, while still featuring all the detail you desire, as well as all the protection that you would expect out of a fully functional medieval shield. As far as wooden shields are concerned, one of their greatest advantages is that wooden shields are generally much lighter than steel shields, which is a real blessing when it comes to carrying around a shield all day. These wood shields are also quite strong, so you have still got every bit as good a defense as you would have had with a steel shield. They are fantastic to carry around as a part of your perfect costume, as well as great for use in sparring contests and training matches. Wood shields also will not rust like metal shields will, nor do they require the same level of care that a metal shield might, giving them a much longer shelf life. they are offered in a variety of shapes and sizes, echoing the looks of classic medieval shields like round shields, kite shields, and heater shields, as well as more classic designs like Greek shields, Roman shields, Celtic targes, fencing bucklers, and more. And add in that many also feature stunning designs, like heraldries and classic symbols, which are painted and sealed onto the surface of the wood, and you have a series of medieval collectables that will not only keep you safe in a fight but will also look great hanging on your wall! Dark Knight Armoury has wooden Templar shields, wooden knight shields, wooden Greek shields, wooden kite shields, and shields bearing the heraldries of kings like Richard the Lionheart and more. It is quite the selection, and it is all waiting, right here, for you to browse and enjoy.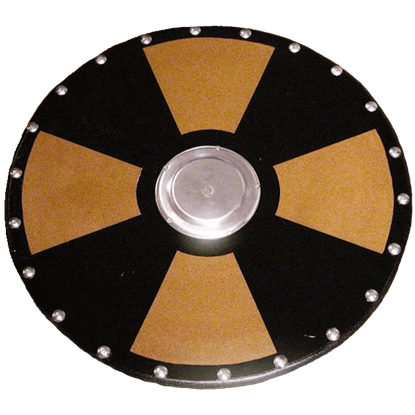 Item # WS-82
This Viking styled shield features a classic Cross design. The Wooden Viking Cross Shield is made out of a 0.5 inch thick smooth composite wood, which is considerably stronger and more durable than plywood.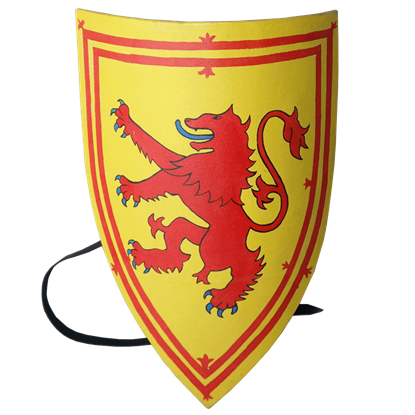 Item # AH-3894N
Surprisingly, the wolf, while not commonly seen in heraldries, was often seen on warriors. This Yellow and Red Wolf Heater Shield lets a warrior wear the wolf as heraldry when they head into battle, trusting this predator to protect them.