Womens steampunk shirts look great with casual clothing or formal attire, offering you flexible and distinctive style. We carry a great mix of womens steampunk t-shirts, steampunk tank tops, Neo-Victorian blouses, steampunk crop tops, and womens alternative history shirts of various designs. Our range of womens shirts contains short sleeve tops, long sleeve blouses, and sleeveless tops to give you options for any time of year. Many of our period blouses feature ruffles, jabots, lace, and other authentic Victorian details. Our modernized steampunk tops make use of cutouts, buckled straps, metal gears, studs, and other design elements. Our steampunk shirts display an incredible range of styles, drawing from the dieselpunk and cyberpunk alternative fashions, as well. Several of our womens t-shirts show off steampunk prints featuring mechanical grim reapers, fairies, dragons, and other dark fantasy designs. Look through our array of womens steampunk tops to find the perfect piece to go with anything from Neo-Victorian ensembles to post-apocalyptic attire. Our selection embraces the whole range of steampunk fashion.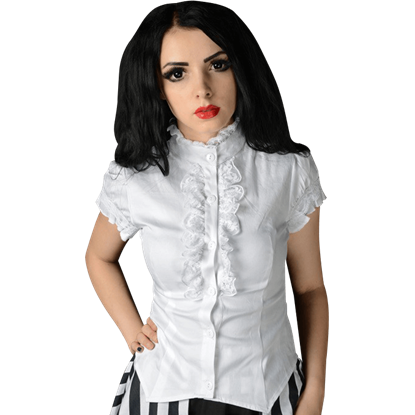 Item # DR-1087
White clothing possesses the benefit of going with almost any other color, so it can be matched with a number of other pieces in your wardrobe. The White Ruffled Short Sleeve Blouse looks fantastic in gothic or period ensembles.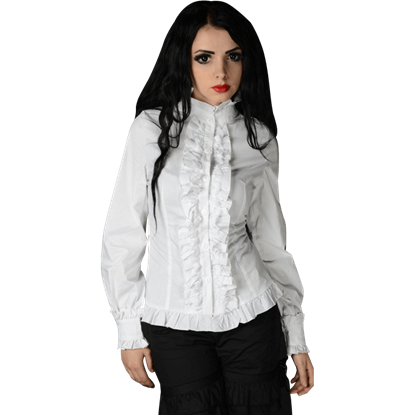 Item # DR-1089
Combining the gothic aesthetic with Victorian elegance can create visually appealing fashion. The White Victorian Blousemerges a pure white color with a ruffled period blouse to create its eye-catching style.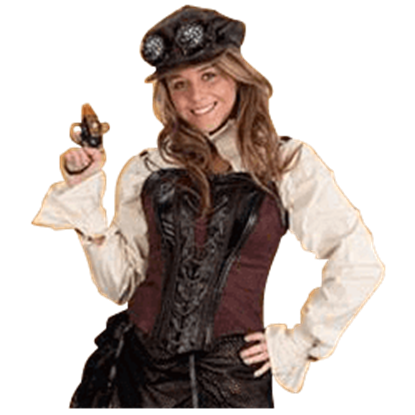 Item # 101338
Reinvent and redefine the stigma that women cannot succeed in engineering when you wear the Womens Steampunk Engineer Top! By donning this neo-Victorian blouse, your skill will receive rightful praise without subduing your style!