Drawing upon a unique blend of aesthetics, steampunk weaponry often displays vintage Victorian designs with a mechanical bent. We carry an excellent selection of steampunk replica firearms that make superb costume accessories or theatrical props. Our Neo-Victorian replica guns include a range of sizes and styles, including flintlocks, revolvers, and other high quality period pistols. These non-firing guns show incredible detail in their designs, often augmenting traditional gun features with anachronistic or futuristic elements like scopes, gauges, and gears. Many of the steampunk prop guns display engravings, rhinestones, colored finishes, and other fine details that make each one a unique item. Perfect for airship captains, steampunk gentlemen, Victorian ladies, steampunk explorers, and other popular cosplay picks, our selection of steampunk prop pistols contains a gun for any look.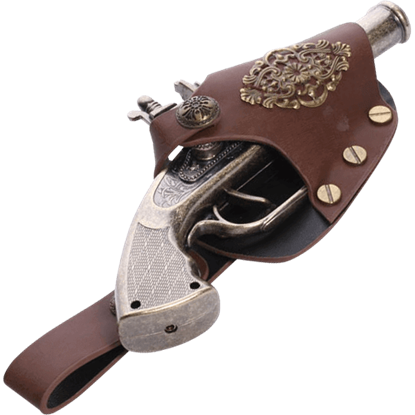 Item # RL-GS03
When dressing in an authentic Victorian-era ensemble, a pirate costume, or with charming steampunk flair, this prop makes a fantastic addition to your look. The Steampunk Engraved Gun and Holster has a great vintage appearance.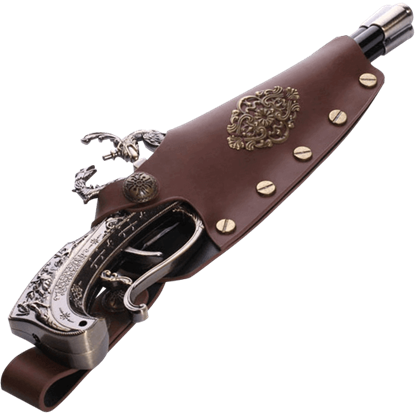 Item # RL-GM02
Only the nobility would be lucky enough to carry a gun this ornate! The Steampunk Flintlock and Holster offers your steampunk apparel a distinct touch of vintage flair with its intricate appearance and antiqued design.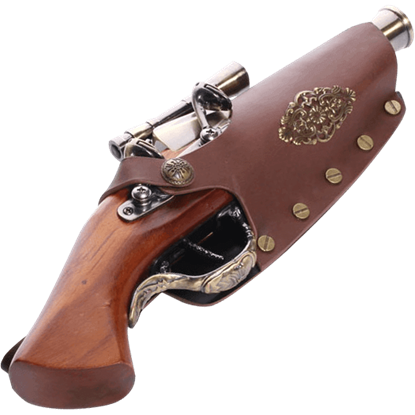 Item # RL-GL03
Whether you are dressing as a daring airship officer or a clever artificer, your steampunk outfit will require excellent props. The Steampunk Scope Gun and Holster makes a striking vintage weapon to suit your style.