As Jack Sparrow attests, no true buccaneer can be complete without his pirate hat. We carry excellent pirate headwear for men, women, and kids. Many of these pirate tricorns and captain hats show off feathered plumes, gold braid, ribbons, and Jolly Rogers in their design, while other leather tricorns possess a more roguish look. Our pirate wigs and costume hairpieces often extend from headscarves and bandanas, showing off long hair or dreadlocks decorated with beads and braids. Other designs include pirate costume beards, as well. Lady pirates can also appreciate several miniature pirate hats, which go fabulously with pirate costumes. These buccaneer hats come in a wide range of affordable prices, so there is no reason not to finish off your ensemble with privateer flair.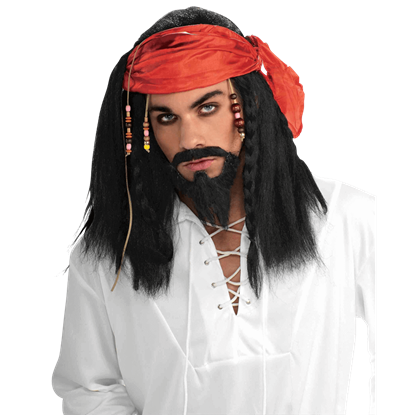 Item # FM-65380
The moment you put on this South Seas Buccaneer Wig, it is a pirates life for you and nothing else. This is a pirate wig at its finest, featuring a scraggly style contained under a pirates bandana and decorated with beaded tassels.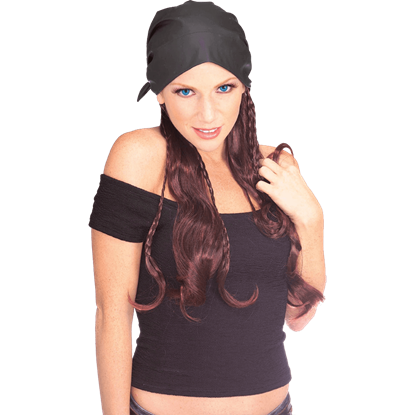 Item # RC-51180
Getting your hair styled for the high seas can be a rough ordeal. Why not avoid the hassle altogether? Just wear this Womens Pirate Wig and Bandana instead, to give yourself fabulous pirate hair that works with any pirate ensemble!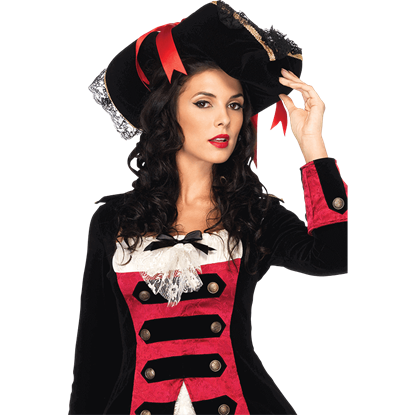 Item # LG-2098
Avast! Second to none in style and class, the captain steps on shore adorned in her finest headwear. Bedecked with lace, ribbons, and bows, the Womens Swashbuckler Hat is sure to command attention at your next costume-worthy occasion.