During the Golden Age of Piracy, pirate ships used a number of distinctive flags that they would raise once they had another ship within firing distance, offering their prey a chance to surrender rather than risk fighting with no quarter. Here we offer a selection of excellent pirate flags used by some of the most infamous pirates in history like Calico Jack and Henry Avery, as well as the iconic Jolly Roger flag. These skull and crossbones flags, along with our other designs, often show off burn marks and other stylized wear and tear to give them a realistic look. Our buccaneer flags come in a range of different sizes, allowing you to choose the one that best suits the space you have in which to hang it. Some of our swashbuckler flags have been treated with a waterproofing agent to prolong their life when displayed outdoors. Many of our pirate ship flags feature grommets for ease of hanging, as well. Fans of Black Bart, Blackbeard, and other notables are sure to appreciate the bold look of these excellent canvas flags!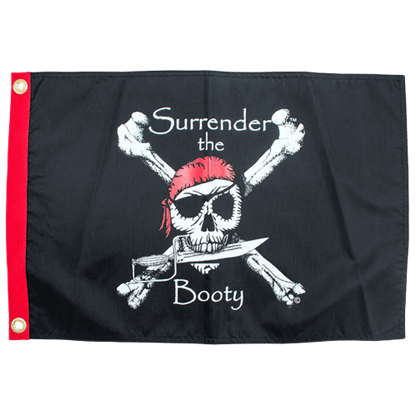 Item # CH-FSB
Are looking to strap on an eye patch and sail the seven seas in search of ships to plunder? If your answer is yes, then you are going to need a piratey flag to fly above your pirate vessel, like the Surrender the Booty Pirate Flag!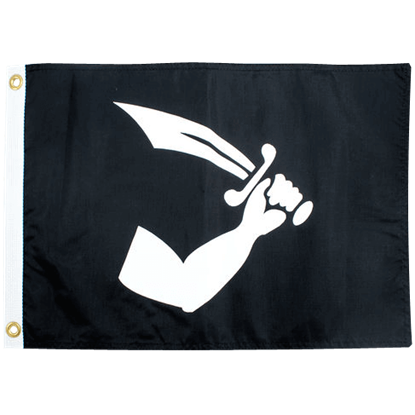 Item # CH-FTT
Inspired by what is believed to have been the personal standard of infamous Rhode Island pirate, Thomas Tew, the Thomas Tew Pirate Flag is a fine example of classic pirate decor. This sea-worthy flag is something all pirates need!