For menacing and unique LARP weapons inspired by cutthroat fighters of eras past, all crafted with expert attention to realism as well as safety, look no further than our Mercenary LARP Collection. Masterfully constructed by Forgotten Dreams, the wide variety of LARP weaponry in this collection includes exceptional pieces for the distinguished LARPer. Shop here for LARP pole weapons that will have your enemy running before you even reach them, like our wicked-looking Mercenary Renaissance LARP Halberd. Our LARP swords here feature unique details with historic inspiration, such as our Mercenary LARP German Messer Sword and our Mercenary LARP Katzbalger, made resemble the signature weapon of the Landsknecht mercenaries. Colored to resemble real metal and dark wood, each LARP weapon and LARP shield has been built out of high quality materials for safety and durability. Made out of shred resistant, industrial quality foam, the LARP equipment is then coated with latex as well as an elastic gloss finish for added protection. The weapons all feature sturdy yet flexible fiberglass rods at their cores. With proper maintenance, items from the Mercenary LARP Collection are sure to become your trusted blades and defenses at LARP events time and time again.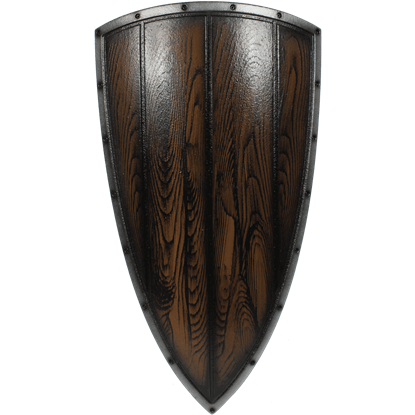 Item # FD-1081
When it comes to keeping your defense up in battle, nothing protects like a good shield. The Mercenary LARP Heater Shield, with its medieval-inspired design, is a fantastic way to guard yourself in live action roleplay combat.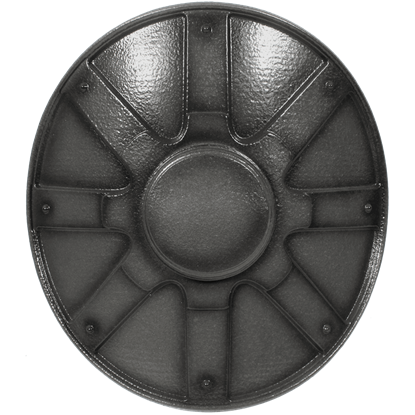 Item # FD-1090
Slightly curved to help fend off blows from various angles, the Mercenary LARP Metallic Buckler Shield is an excellent defense to add to your live action roleplay battle ensemble. It is made of sturdy, closed cell polyethylene foam.