Keep your surfaces safe and stylishly adorned with our selection of coasters! We carry medieval, fantasy, gothic, and pop culture coasters here. Many of our coasters are made of high quality materials and are impeccably detailed. We offer hand painted cast resin coaster sets with bases that look like carved dragons, mermaids, fairies, and skulls. We also offer ceramic coaster sets decorated with graphics from popular franchises like Star Wars, Harry Potter, Game of Thrones, and Star Trek, as well as coasters decorated with fantasy or patriotic artwork. When you are looking for a set of coasters that will add to the intrigue and uniqueness of your home decor, shop our selection of pop culture, gothic, and fantasy coasters here.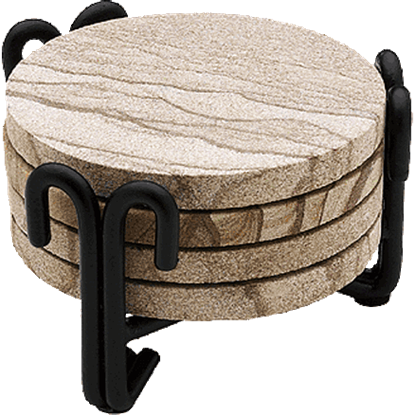 Item # TY-H23
The Wrought Iron Ram Round Coaster Holder has an easy style that suits any decor while helping keep your round coasters neatly contained. This black metal coaster container can hold up to 4 coasters in its minimalist frame.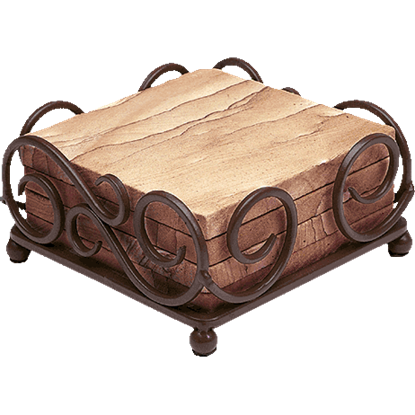 Item # TY-H50
The Wrought Iron Scroll Square Coaster Holder will have your coasters beautifully kept even when they are not in use. This square coaster display stand holds up to four square coasters in its elegant scrollwork frame.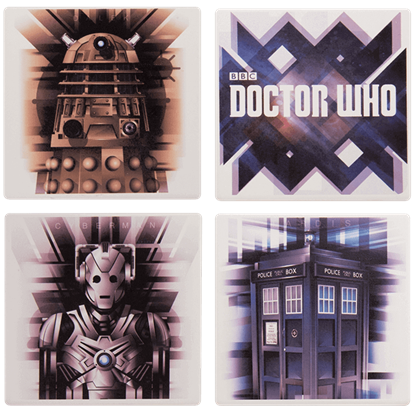 Item # VP-16085
Keep your table clean while you show off your fan allegiance. This Doctor Who 4 Piece Ceramic Coaster Set adds some fun to your home decor with Art Deco stylized designs of a Dalek, a Cyberman, the TARDIS, and the Doctor Who logo.