Armor is not designed specifically to be comfortable. In armor, protection trumps comfort every time, which is why at Dark Knight Armoury, we sell a diverse array of effective and attractive pieces of arming clothes. Arming clothes is traditionally serves two purposes. It adds a layer of padding between armor and the person underneath and it also provides a secondary layer of limited protection. As additional padding, gambesons and arming caps serve to prevent armor from pinching, chaffing and otherwise causing extreme discomfort in the wearer. They also add additional bulk, which ensures the armor fits snugly and securely. Arming clothes like gambesons, arming caps, and arm and leg padding can also act as limited protection. Thickly padded arming wear can act as a sort of dampener, cushioning the impact of glancing blows. Our arming clothes comes in a variety of styles and has a variety of uses, and any of our gambesons or other arming wear can be worn with metal or leather armor without issue. And with styles fit for crusaders, knights, woodsmen, vigilantes, and everything in between, you will be hard pressed to find a selection of arming wear as impressive as Dark Knight Armourys.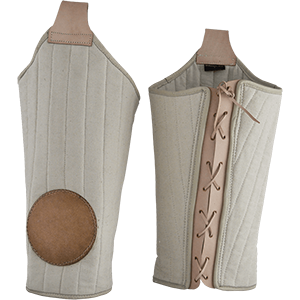 Read More
While you may wear armor to keep your limbs protected in battle, you might also look into arm and leg padding to keep your limbs comfortable and protected from the armor itself! Shop this section for our limb-protecting arming wear. We carry padded bracers and greaves to wear under leather or steel bracers and greaves, padded sleeves for more comprehensive arm protection, and padded tassets to protect the thighs. All sorts of warriors can take advantage of arm and leg padding, whether worn on its own as part of a costume, used as light armor, or layered for comfort and protection. If you are wanting to wear armor, whether for reenactment, LARP, or costume use, be sure to wear it as comfortably and safely as you can with a protective layer from our arm and leg padding selection here.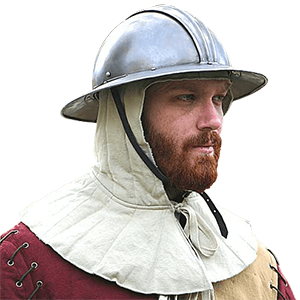 Read More
Helmets may protect your head, but what protects your head from a helmet? A padded arming cap, of course! Dark Knight Armoury has a number of incredible helmets available, and not all of them are made exclusively for comfort. If you are considering a helmet, then you might want to consider an arming cap as well. A padded arming cap is a wonderful accessory that adds a layer of padding between your helm and your head. Without an padded arming cap, a metal or leather helmet can chafe or pinch, catching on stray hairs or rubbing areas of skin uncomfortably. A padded arming cap prevents this, and additionally adds extra bulk to your skull, ensuring that not only is your head padded, but your helmet is also snugly fitted. Padded arming caps are also great for cold weather. They could be loosely viewed as medieval warrior earmuffs. So if you have got a helm that is rubbing you the wrong way, then you should get a padded arming cap and wear your helm in comfort as soon as possible.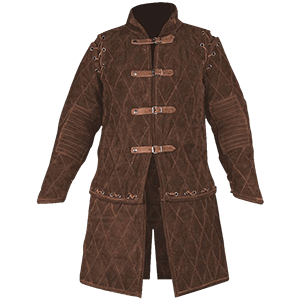 Read More
Padded gambesons were traditionally worn during the medieval ages. Warriors favored them primarily as a source of padding, worn under their armor to ensure that the steel or leather plates did not rub and chafe uncomfortably during hours of movement and use. Dark Knight Armourys wide selection of padded gambesons performs the exact same function as their historical counterparts. These padded gambesons can be worn with steel or leather armor. It helps to reduce the pinching and chaffing of both types of armor. They are also great looking, and many of the gambesons can be worn alone as padded armor or quilted armor. They come in a variety of styles and colors, from plain, undecorated gambesons that are fit for any knight, warrior, or soldier, to decorated yet functional gambesons that are fit for kings and outlaws. We have gambesons that have no sleeves, short sleeves, detachable sleeves and full sleeves, ensuring that no matter what type of gambeson you need, Dark Knight Armoury has it available. If you need padding for your armor or if you prefer to wear padded armor, then pick up one of our padded gambesons. You will fit snugly into your steel or leather armor and you will look rather authentic, not to mention pretty cool to boot.